Long before Oprah, Beyoncé, Drake and Adele dominated Billboard charts, Nielsen ratings, Twitter feeds and award shows, there was Cher.
The fashionable pop icon designed the fame blueprint—as a popular TV show host, top recording artist, award-winning actress, and mononymous (i.e. known by one name only) branding genius. Her singular moniker (and groundbreaking use of Auto-Tune) changed the fame game. Even U2's Bono, Madonna and Pink can't claim that legacy.
After 53 years in the spotlight, proof of Cher's underappreciated success is re-bubbling to the surface. She just dropped "Dancing Queen," a retro-disco cover album of ABBA songs that will usher in the Mama Mia! movie sequel with a dance-infested, auto-tune bang.
The superstar seems to be re-emerging from coast to coast — in New York with her recently announced Broadway musical (based on her life), and in Los Angeles, where the legend's former Beverly Hills mansion just listed for a whopping $68 million. One-hit wonders don't attain such A-list status.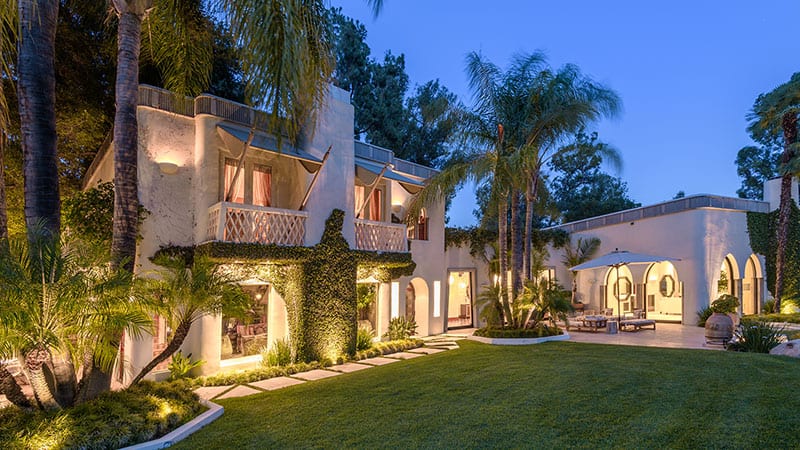 Courtesy of Douglas Elliman
Cher purchased the hidden hideaway in 1977 and built a customized mansion in 1980 on the original 4 acres—following high-profile divorces from musician husbands Greg Allman, and Sonny Bono, her mismatched partner on the 1970s variety TV show, The Sonny and Cher Comedy Hour.
The property has since been expanded into a 14-acre equestrian estate.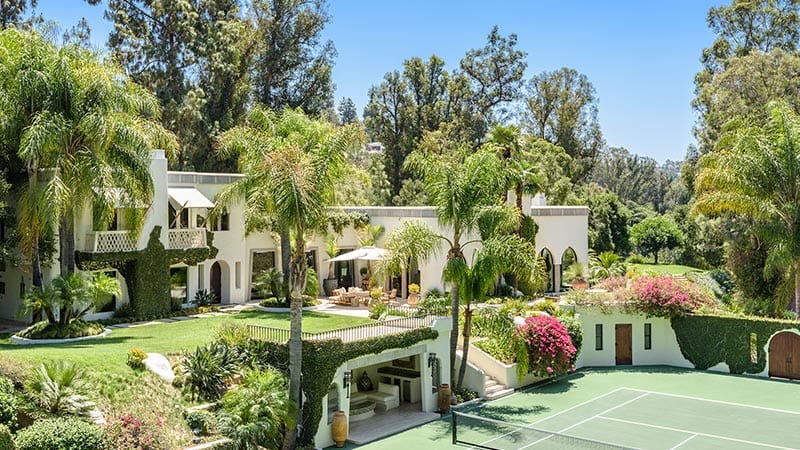 Courtesy of Douglas Elliman
Located in Benedict Canyon near famed Rodeo Drive and the historic Beverly Hills Hotel, the sprawling five-parcel compound includes an unfinished 20,000-square-foot main house, a Moroccan-infused guest house, five deluxe stables, a tennis court, and horse riding nature trails.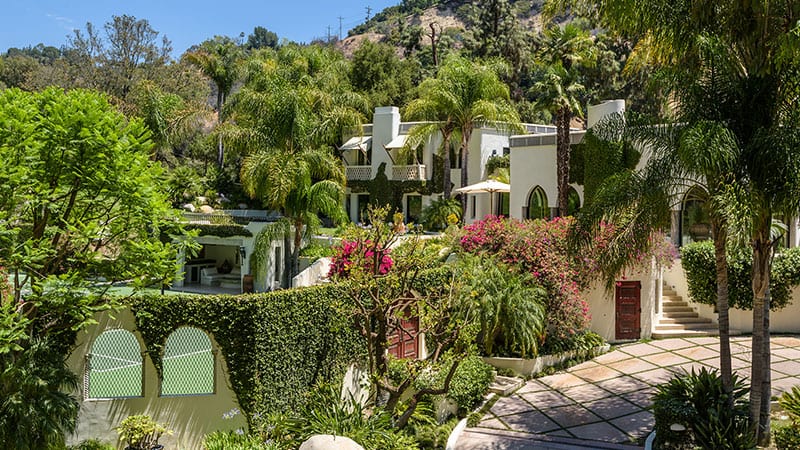 Courtesy of Douglas Elliman
Cloistered by a dazzling illuminated front entrance with mesmerizing landscaping, soaring ivy walls and a colossal horse stable-style wooden gate, the majestic estate also showcases a meandering driveway along which the 7,000-square-foot Moroccan guest house resides (with integrated arched windows disappearing into walls).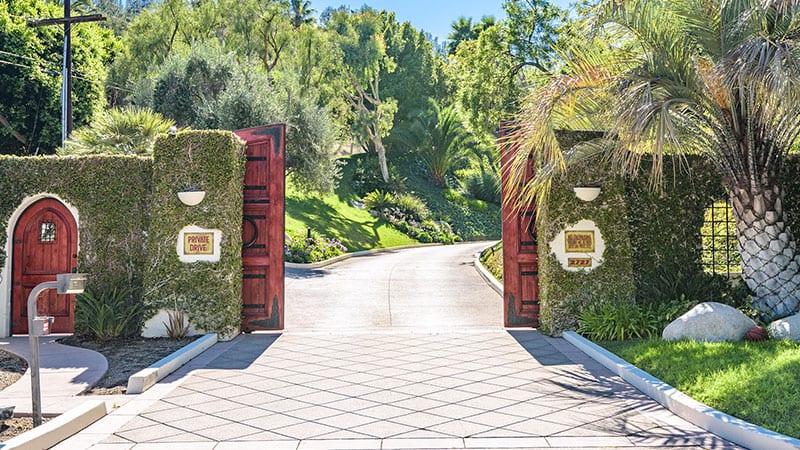 Courtesy of Douglas Elliman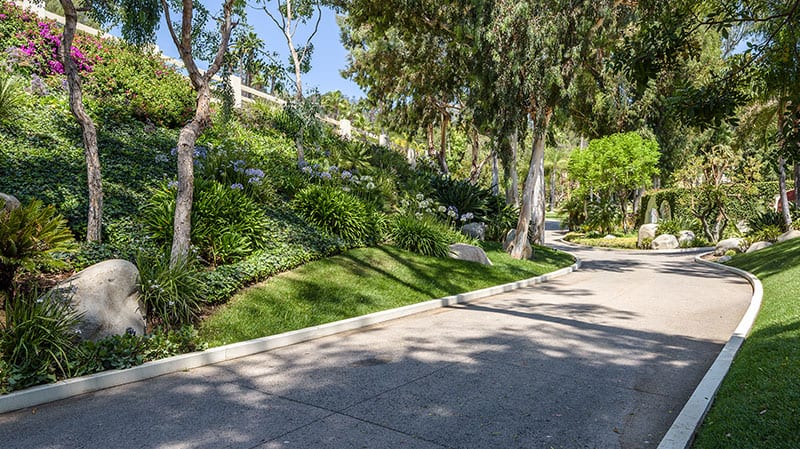 Courtesy of Douglas Elliman
And that's just the driveway, which entices with virtual yellow brick road anticipation. Strategic floodlights accentuate the property's cascading landscape along verdant gardens and parkland pathways against an isolated mountain backdrop.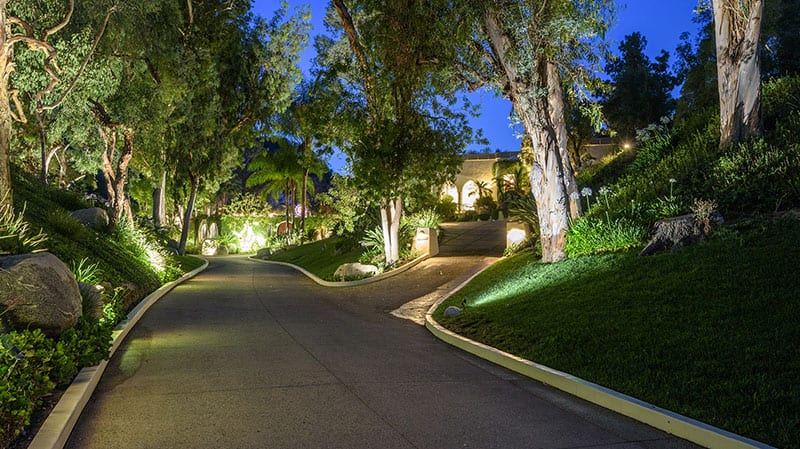 Courtesy of Douglas Elliman
The main house remains in the first stage of an extensive remodel, awaiting a new owner (or developer) who will put an emphatic stamp on the 11-bedroom, 17-bath residence which includes a large pool. The exotic five-bedroom, five-bath guest house is move-in-ready, decorated with Moroccan tile, arched windows and doorways, coffered ceilings and carved wooden floors. It could serve as temporary living quarters until the main residence makeover is completed. The $68 million price tag is a reported $17 million below the previous ask.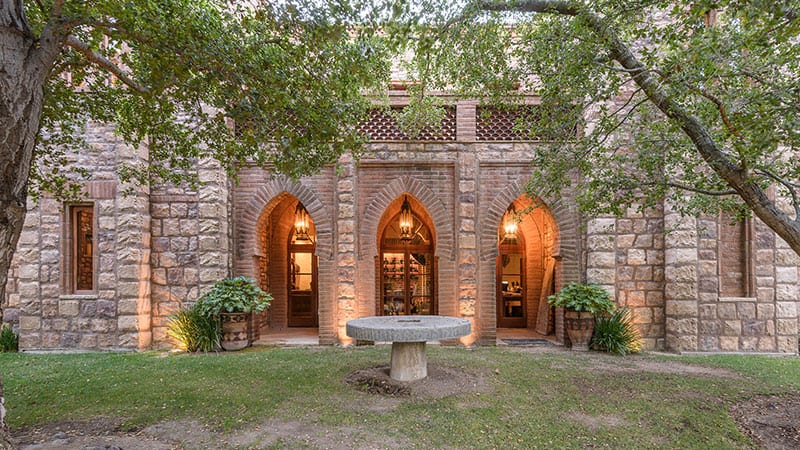 Courtesy of Douglas Elliman
Overall, the 32,000-square-foot property boasts an indoor-outdoor Moroccan vibe with Moorish keyhole arches, stone terraces and oasis landscaping of soaring palms and artistic ivy growing upon the home's white stucco façades.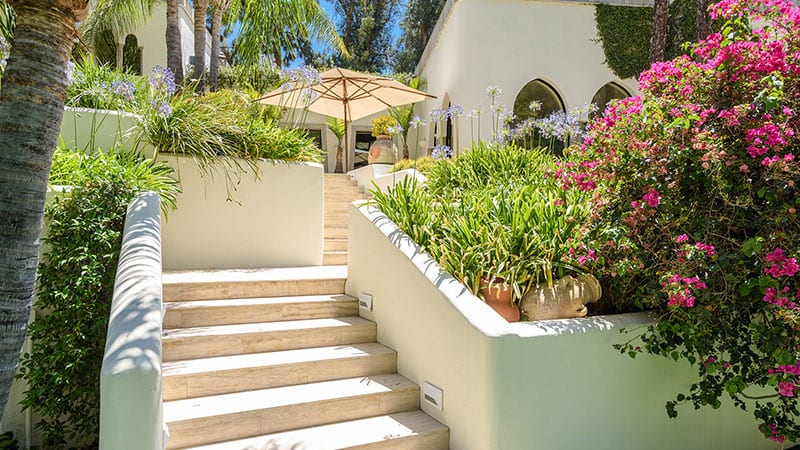 Courtesy of Douglas Elliman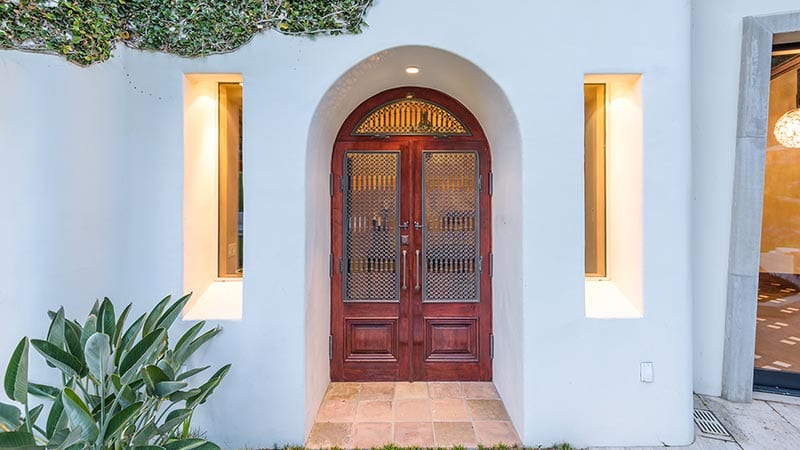 Courtesy of Douglas Elliman
A back courtyard of patios (with an outdoor kitchen) flow to a balcony atop a Moroccan cabana lounge — all of which overlooks the stadium-style tennis court amid tranquil floral gardens.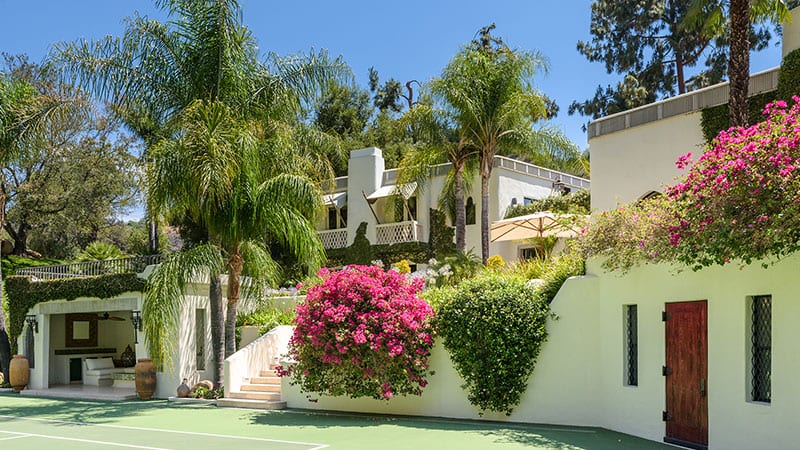 Courtesy of Douglas Elliman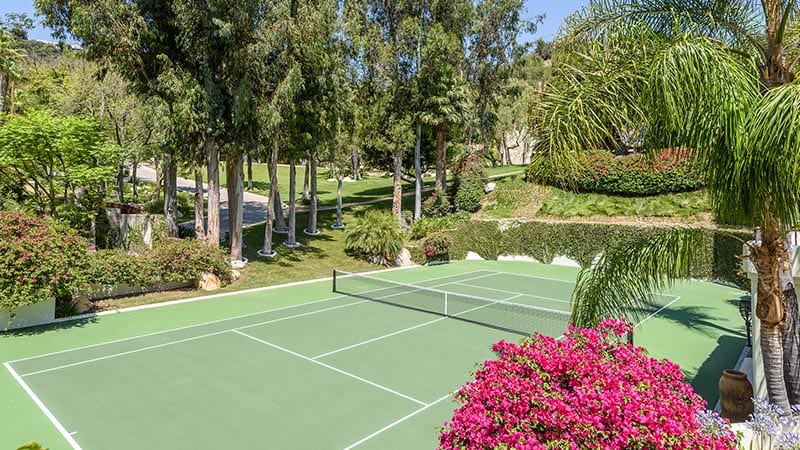 Courtesy of Douglas Elliman
The hacienda-style equestrian facilities are anchored by a lounge, fireplace, and first-rate horse stables with slate paths, towering wood beams, rustic hanging lanterns, and sliding wrought-iron doors on the five stalls.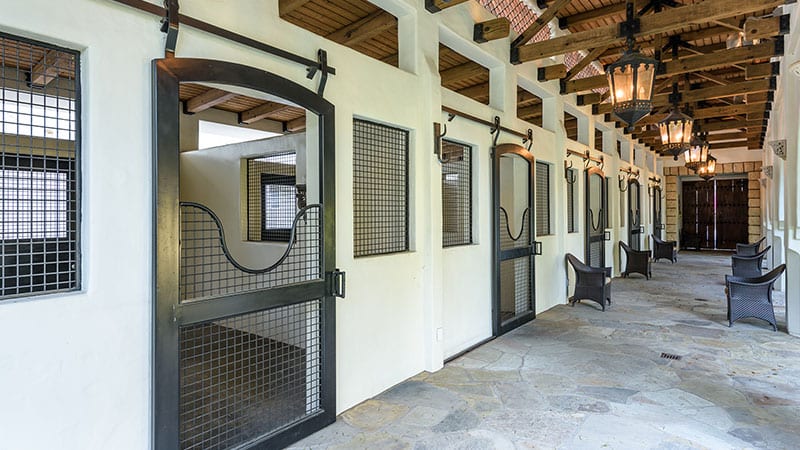 Courtesy of Douglas Elliman
There's also a pair of white-graveled riding rings and roaming horse trails amid the meticulously landscaped grounds.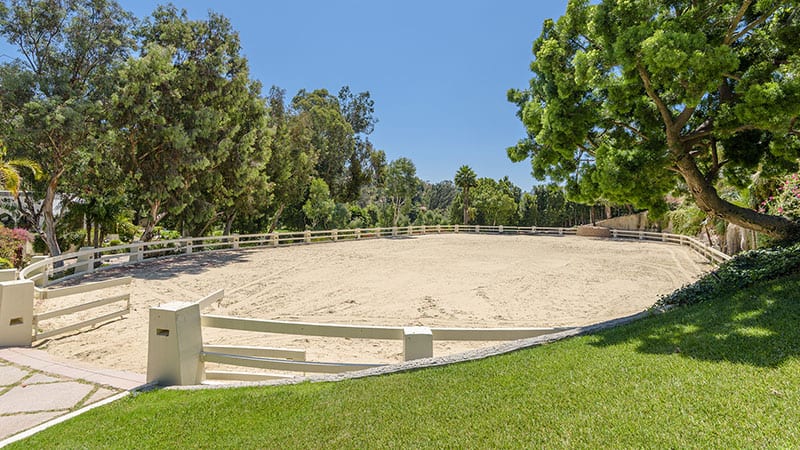 Courtesy of Douglas Elliman
Even Cher couldn't have imagined her lush, pet-friendly pad would evolve into a paradise for humans and horses. In 1988, she sold the property to actor-comedian Eddie Murphy, an intensely private celebrity who sought refuge from his immense fame here. Murphy sold the estate in 1994 and subsequent owners acquired surrounding parcels of land, creating a massive grandfathered compound which can't be replicated today in Beverly Hills.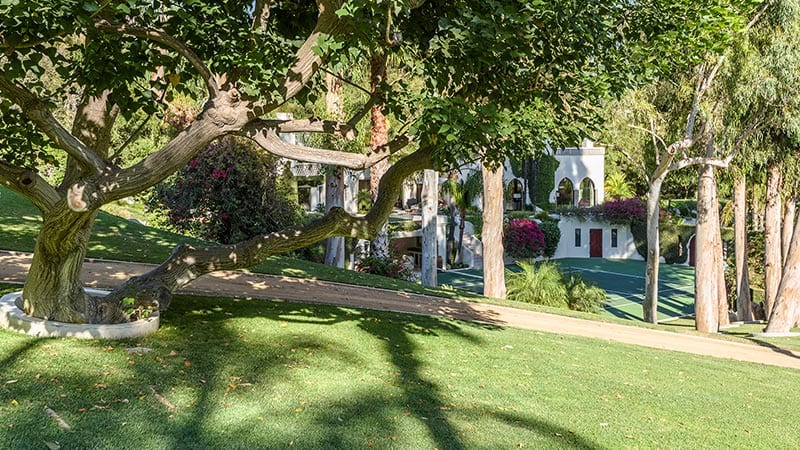 Courtesy of Douglas Elliman
During her brief time here, Cher focused on her escalating acting career which garnered her critical acclaim for roles in Silkwood (opposite fellow icon Meryl Streep) and a comedic turn in Moonstruck, for which she won the Best Actress Academy Award (shocking the world in her barely-there Oscar gown, topping her previous super spiked-hat red carpet look).
Cher's talent for shock is unmatched, be it her outspoken views or fashions—from her waist-length Sonny & Cher hair swaying to-and-fro over hippy threads to telling Late Show host David Letterman to "F-off" to her "If I Could Turn Back Time" video (the first ever banned by MTV) where she wore a leather thong that revealed her tattooed backside.
Cher filmed one of the first cinematic music videos in 1980 and later ushered in the age of Auto-Tune with her smash hit "Believe," widely considered the first hit to exclusively use the electronically-enhanced vocal technique. Auto-Tune addict Kanye West owes the second act of his career to Cher, despite his homie Jay-Z's repulsion for the technique (not to mention the ire of music critics).
Cher's Broadway musical will be directed by Pitch Perfect's Jason Moore with musical numbers penned by Jersey Boys' Rick Elice. The musical will feature Cher's catalog of pop music with three actresses playing the icon at different stages of her life.
Cher is not the first mononymous (single-named) star. We can likely thank Biblical and antiquity figures like Jesus, Ramses, Plato and Aristotle for that. That led to Pocahontas, Michelangelo and Voltaire — other unforgettable, consequential people of accomplishment.
Whether they realize it or not, Cher's legacy influenced modern superstars, Beyoncé, Drake, Rihanna (and mononymous rappers) included—many singer-actor-fashion icons in their own right. Thanks to image branding, any of them could afford Cher's $68 million former estate with the snap of a finger. They should all worship the tattooed, spike-haired, nearly naked goddess who preceded them. Take a bow Cher—and soon, a Broadway curtain call too.
Keith Flamer is a pop culture scribe who dabbles in celebrity real estate, travel, architecture and extraordinary design. He enjoys exploring attics, basements, exotic locales and history in search of provenance and treasures to share with curious readers.