Shared equity mortgage is not "too good to be true"
For some buyers challenged by the task of saving a big fat down payment, the shared equity home loan is a big fat blessing.
Daniel Krill and Shannon Ross believe it would have taken them three more years to save a 20 percent down payment without using a shared equity mortgage.
First-time buyers put 6% down on average
"It made sense for us based on the fact that the payments are $250 less each month than originally planned," the Vallejo, California couple claims.
What is a shared equity mortgage, anyway?
Many buyers like this couple find it tough or almost impossible to accumulate a big enough down payment to get the house they want. For them, a new-but-old product, the shared equity mortgage, may save the day.
The lowdown on down payment grants
With a shared equity mortgage, a lender provides part of the down payment. But instead of monthly payments from the borrower, the lender gets part of the equity gained when the borrower sells the home.
The deal may or may not include repayment of the original amount borrowed, says Atlanta-based Down Payment Resource, (DPR), the nationwide database for homebuyer programs.
"Municipal shared equity programs have been around for a long time, and today, we are seeing more private investors enter the market," says Rob Chrane, CEO of the DPR.
He remarks that because this home financing model trades some of a homeowner's value in the house, buyers should carefully evaluate all their down payment program options.
Who offers shared equity mortgages?
DPR currently tracks 33 shared equity programs. Most come from local governments, non-profit or universities. In high-cost markets like San Francisco, private investors may help buyers finance more expensive homes.
Who uses shared equity mortgages?
Some shared equity mortgages allow low-income and moderate-income families to purchase homes at below-market prices. Affordable Homeownership: An Evaluation of Shared Equity Programs,  a study by the Urban Institute, found that the incomes of participants averaged 51 percent of their area's median income.
How do lenders know if you borrow your down payment?
In high-income areas, homebuyers use shared equity mortgages to affordably finance their down payments. If median-priced homes in New York City cost $600,000, a 20 percent down payment is $120,000. That's a lot of money to most people.
What's the down payment for a shared equity mortgage?
Depending on the area and the program selected, the options for programs and what they offer remain very different.
For instance, the City of Austin, Texas, offers a shared equity option with down payment assistance up to $40,000. The buyer agrees to pay part of the property appreciation to the city. The appraised value or purchase price of the home cannot exceed $245,000.
Alternatives when you don't have 20% down
Unison Home Ownership Investors, the private company Ross and Krill received their help from, provides half of the buyer's down payment funds. In exchange, it collects a 35 percent share of any increase in value when the house sells.
Unison's funding comes from institutional investors, including pension funds and university endowments, says Mia Dougherty, an account coordinator at Unison.
Who has successfully used a shared equity mortgage?
Krill and Rose partnered with Unison to finally purchase their first home after their landlord sold the home they had rented for 14 years. They bought a $335,000 home in Vallejo, with 20% down. Half of that ($33,500) came from Unison.
They borrowed the remaining 80 percent from a traditional lender.
Does a low down payment make your offer weaker?
Their combined principal and interest monthly payment is $1,358. Had the couple taken out a larger mortgage, their payment would have included mortgage insurance. This would have cost about $250 more per month.
They bought a three bedroom, three bathroom single story home with 1,350 square feet. It lies on a quiet court and close to schools and shopping.
When they sell, Unison will collect its original $33,500 plus 35 percent of the difference between the sales price of their home and its purchase price of $335,000.
"If the home's value appreciates, both Unison and the homebuyer profit as partners. If the value depreciates, Unison also shares in the losses," Dougherty explains.
How do you qualify for a private investor's shared equity mortgage?
Every program will require certain things from its homebuyers. Dougherty says that Unison looks at applicants' credit history, income and assets. They also look at details like what type of house they are trying to purchase, and if it is typical for the neighborhood.
Generally, if you are approved by a mortgage lender, you will qualify to be approved by Unison, she adds.
Pros of using a shared equity mortgage
There are several advantages to this plan:
a smaller mortgage and payment
no private mortgage insurance (PMI), because they will have 20 percent down
may qualify for a better first mortgage with a larger down payment
Of course, there are also tradeoffs.
Cons of using a shared equity mortgage
The Urban Institute says that because this is a new model, consumers need to be vigilant about protecting their interests. Homebuyers must ensure they understand all the transaction's implications before signing away any ownership.
The obvious con remains the fact the equity is shared at the time of the sale. But it's not known what consumer protections will apply to the relationship between the homeowner and the investor.
Read this before borrowing from your 401(k) to buy a home
If these borrowers sell their home in a year for five percent more than they paid for it, they will have accrued $16,750 in equity. The lender's 35 percent share comes to $5,863. If they borrow $35,000 for one year and pay $5,863 in interest, they pay 16.75 percent.
That's more than many credit cards charge. Of course, if the property value does not increase, they pay no interest.
The chart below shows what the interest rate would be depending on the appreciation of the home.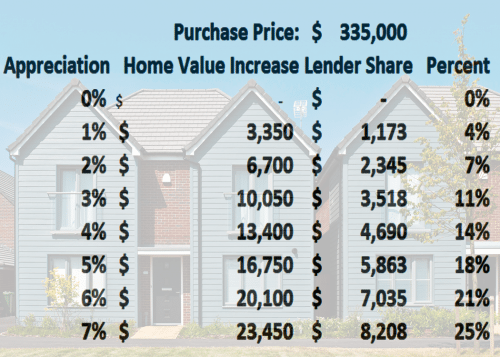 Also, there still lie areas of gray when a borrower defaults on the first mortgage or fails to pay property taxes, the Urban Institute shows.
While not for everyone, this product has made many buyers happy, including Mr. Krill and Ms. Ross.
"Even if the market does increase and there is shared equity, the comfort of living and saving over the course of many years are worth it," the couple says.
What are today's mortgage rates?
Shared equity mortgage rates depend on how much the property appreciates. They work completely differently from traditional mortgages.
However, you should be able to get a ballpark rate based on how much you expect the property to increase in value, and compare this with the extremely low home loan rates available on this site.