Discover Your Home Price Range
Getting the best mortgage value means more than checking current interest rates. The loan and expenses must work within your budget and needs.
A mortgage calculator is a critical tool. The software, typically available for free use, can let you see what you might be able to afford.
The best calculators allow you to manipulate your downpayment, mortgage rate, and home price, and will even estimate your mortgage insurance.
Some will even show the home price you can probably afford based on your income and debts.
A calculator analysis won't replace a pre-approval from a lender or tell you exactly how much you can afford. But it will help you arrive at a reasonable home price range for your budget — if you use the mortgage calculator the right way.
Look For Robust Mortgage Calculator Features
No two mortgage calculators are alike.
Some offer only the most basic functions, and frankly, aren't all that useful. For instance, a calculator that only allows a loan amount input without knowing your downpayment won't factor in your estimated mortgage insurance costs.
Home buyers should look for calculators that can:
Calculate the monthly payment for a given price home, interest rate, and down payment
Determine an affordable home price on a given income and monthly debt level
Tell you the home price you can buy with a certain monthly payment
Let you adjust home insurance, property tax amount, and home owner association (HOA) dues
Graphically display results to help you better understand what you can afford
Over 4 million online searches are conducted per month for mortgage calculators, according to search engine analytics. As a result, related tools abound in the online space. Very few of them actually consider the finer points of qualifying for a home loan, and could provide erroneous information.
Only use a mortgage calculator from a trusted website — one that knows about the inner workings of mortgage lending.
Input Your Complete Scenario
To get the best results from a calculator, it's a smart move to learn how to input information correctly. Good input leads to good output.
To understand how to make the software work for you go to a calculator and provide the necessary information, as shown on the image below.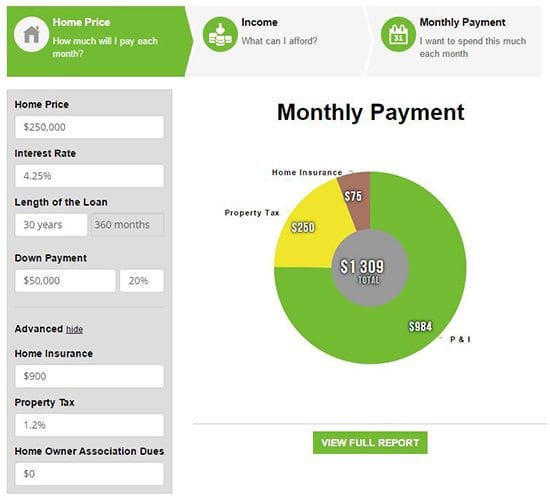 There is flexibility in how to enter the down payment, specifying either a dollar amount or percentage of the price.
The graphic shows a monthly payment, breaking it down into tax, insurance, and principal and interest. As you change any of the numbers on the left, the calculator makes the adjustments and shows the new payment information. Make the interest rate 4.31%, the down payment 18%, and shorten the term to 20 years and you see the following.
Notice that when you reduce the downpayment below 20%, the calculator automatically estimates mortgage insurance.
Look below this display for the amortization graph. This image shows how you pay off the mortgage over the life of the loan.
You can point to any month within the loan period to see how much you will pay in interest and principal that month. As you get closer to the end of your loan term, you start paying off principal at an accelerated rate.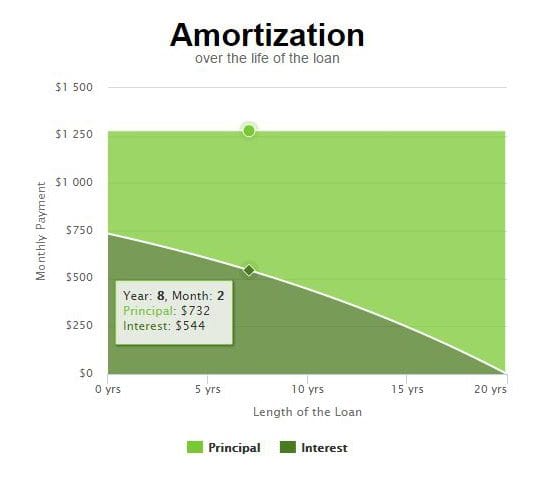 So far, the mortgage calculator has given just a snapshot of your cost breakdown. But it goes a step further by providing a printable report that further details the full life of the loan.
Click on "View Full Report" and you get a summary of the overall numbers, the monthly payments, and ultimate total costs at the end of the loan period.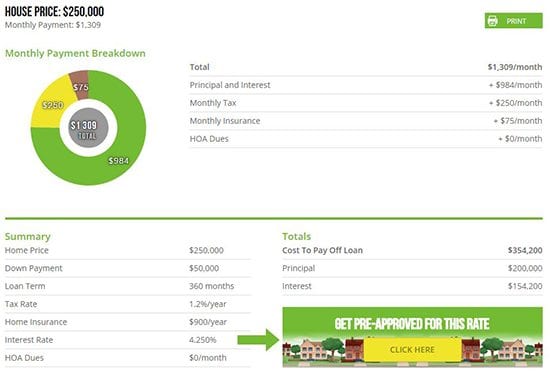 Scroll down for a breakout by year and month of the split between principal and interest, the total interest paid, and the principal remaining on the loan at each month.
You get a snapshot of how your loan amount declines each year. This could be valuable for home buyers who want to estimate their loan balance at the end of five or 10 years, or any amount of time they plan to keep their home.
The calculator can help home buyers decide between a fixed and adjustable rate mortgage (ARM).
If the plan is to keep the home just five years, compare rates for a 30 year fixed loan and a five year ARM. On a $200,000 home price, the home buyer will pay off $4,000 more in principal — and make lower payments — by selecting an ARM at a 3% rate rather than a fixed loan at 4%.
Going Beyond Home Price Calculation
There are two other major ways to use the calculator.
Estimate your home price based on income
Estimate your home price based on desired monthly payment
Use both functions in tandem to see if there's a difference between what you can afford, and what you actually want to pay.
This is important. You might feel comfortable with a bigger monthly cost than the lender will approve you for. Conversely, you could be approved for a payment that you know is too big for your comfort level.
Calculate Home Price By Income Level
Under the "Income" tab you provide your annual gross income — the amount you make before taxes, medical insurance, and automatic retirement contributions.
Input your regular monthly debts. This section is not talking about utilities or gasoline. Rather, this entry is for your monthly cost for debt, such as student loans, auto loans, and credit cards.
Also input your estimated interest rate, the length of your loan in years, and the amount you want to put down on the home.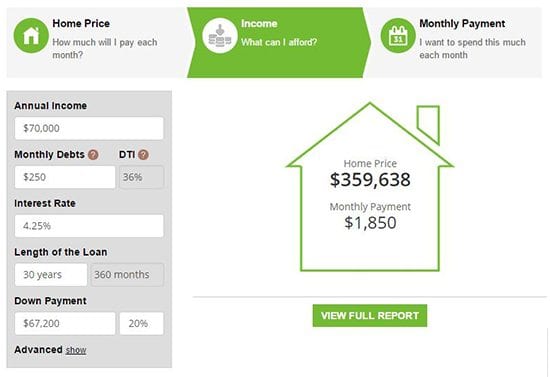 Don't forget the "Advanced" options, where you can customize homeowner's insurance, tax rate, and HOA dues. The calculator will show how big a mortgage you can afford based on your entire scenario.
Calculate Home Price By Comfortable Monthly Payment
One of the first action items before purchasing a house is to create a budget. Make sure your future home payment does not put you in a financially tough position each month.
Determine your maximum desired monthly house payment. Plug that number in, along with other details of the loan. The calculator will give you a customized home price estimate based on your situation.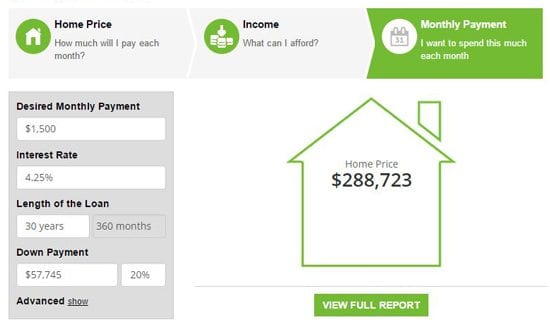 Mortgage calculators are easy to use and provide helpful information when you need to decide how big a mortgage to get and what house price you can afford.
What Are Today's Rates?
Today's mortgage rates are low and it is an ideal time to request a rate quote. A live quote takes just minutes, and no social security number is required to get started.
Low rates mean you can buy more home for less money. Request a quote before rates rise from historic low levels.